Description
In this Adult Basic Life Support training courses with Use of an Automated External Defibrillator (AED) we cover all the relevant adult BLS topics as per the Resus Council UK. We also give you two assessment options; one practical and the other theory only. Compliant with Level 2 CSQ and Level 2 CTSF
You will need access to an adult resus manikin for the video assessment option.
Who is this adult BLS course suitable for?
This course is suitable for anyone working in primary care settings such as GP practices and pharmacies. It is also suitable for staff working in any community settings. The course is delivered at Level 2 in both the Core Skills Training Framework (CSTF) and the Qualifications and Credit Framework (QCF) and Level 5 of the Scottish Credit and Qualifications Framework (SCQF). The course is based on Resuscitation Council (UK) recommends.
Based on Resuscitation Council (UK) recommends, all staff in care organisations should undertake training on how to deliver effective resuscitation with the use of an AED. For clinical staff these guidelines recommended that you update your Adult BLS training at least annually, with a practical element and assessment.
What's included in this Adult BLS training course?
This innovative course developed by Health Academy is compliant with the Resuscitation Council (UK). It also has the added benefit that you can complete it in your own working environment.
Topics covered:
Responsibilities and reporting
Assessment of the situation
Dealing with an unresponsive casualty
Using the DR ABC approach to assessment of the casualty
Adult BLS Resuscitation
AED functions
Defibrillation procedures
Safety measures
Infection control
Theory only option – £19
Select this option if you don't require to be assessed on the practical aspects of delivering Adult CPR. Firstly complete all the course lessons and then pass the written multiple choice question assessment (MCQ) to receive your certificate.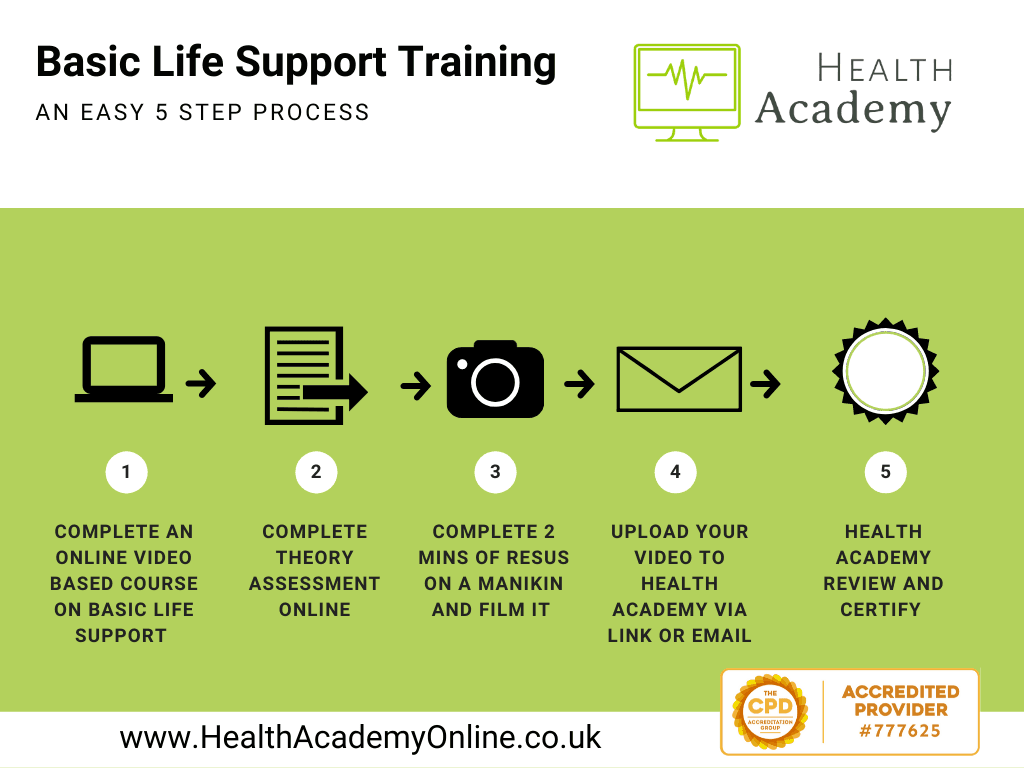 Video assessment option (requires equipment) – £35
Stage 1 –  Firstly complete our interactive video based course.
Stage 2 – Then film your-self completing CPR cycles on a resus manikin and upload it to Health Academy for assessment.
So what's not included?
Paediatric BLS is not included in this course. However, see here for more BLS courses
In addition, Health Academy do not provide the Adult basic life support training resus manikins. We can, however, recommend suppliers for this.